The results of an independent due diligence investigation into what is described as Anson Funds, relentless "campaign of terror" against oil explorer Reconnaissance Energy Africa details, play-by-play, how this criminal operation manipulated a very interesting resource story.
For investors and regulators this is a great playbook to understanding how this criminal fund works and why companies are rendered helpless in fending off such high-level attacks. We have made a few changes to the report and added information we have gathered in the course of our own investigation.
Before we get to the report we wanted to highlight some information from the recent market movements in Recon Africa stock which help to show why companies stand little chance against a sustained attack by sophisticated bad actors.
On Thursday, 12th May Recon Africa circulated a positive news release on a 3rd party resource report for its Kavango Basin project. Given the positive nature of the resource assessment on the eve of its biggest drilling campaign to date, the stock should have responded with upward momentum. Instead, the reverse was orchestrated by Anson Funds.
Anson and associated parties started the day off with manipulative bids/offers, known as spoofing – trying to open the stock at $4.20 CAD (32,000 shares at 08:07 am EST) when the stock closed the previous day at $5.77. While the offer was anonymous, it can easily be traced by regulators. This market manipulation was backed up by their paid bashers on the various social media channels trying to install fear and doubt – a very important element in damaging a company's quote.
Regulators need to look at the trading and cancelled orders in Recon Africa over the past 18 months. They also need to speak to the major Canadian banks and brokers that are facilitating this behavior – who themselves are hurting investors in the pursuit of profit. They are easy to find.
Anson and associated parties are rumored to be up over $40 million on their RECO short position. This profit has been achieved through market manipulation, spoofing, wash trading, short and distort campaigns and harassment. Moez Kassam is also believed to have been profiting personally from the trades through a number of offshore entities. (More information on this in the coming weeks.)
REPORT:
Due diligence investigation into the activities of Anson Funds and key figures behind the fund, with respect to Reconnaissance Energy Africa (Recon Africa) (RECO.V/RECAF) stock price manipulation, spoofing and insider trading suspicions, sophisticated short and distort campaign.
Documents:
RECAF – Fails-to-Deliver / Share Imbalance:
Detailed table looking at fails to deliver, presenting solid evidence that there has been naked shorting of Recon Africa stock. (This table does not show those trades which have been mis-marked as buys rather than sales—a practice rife within Canadian institutions). Click here to view table
RECAF Daily Short Volume:
RECAF Daily Short Volume data going back to 11-25-2020, clearly demonstrating that an average of 56.28% of all trading volume is attributed to the "Sell Short" trade identifier data that has been consolidated from all US stock exchanges every trading day. According to the 2014 SEC study on short selling, this is considered abnormally high and inconsistent with the requirements of both Regulation SHO and the Fair Marketing Making Requirement. Click here to read data
EXECUTIVE SUMMARY 
A pattern of public releases of documentation and witness statements indicates that Anson Funds and associated parties have engaged in insider trading to manipulate the stock of Recon Africa. Most notably, our preliminary investigation suggests that reports commissioned by Anson Funds targeting Recon Africa were shared with others prior to their release. Overall, Anson Funds appears to have engaged in fraudulent activities, including market manipulation, insider trading, naked short-selling, spoofing and wash-trading, and has been the driving force behind a large-scale short-and-distort campaign – the largest we have ever seen.
Anson have intended to not only hurt the company, their reputation, the reputations of their officers, but also to destroy shareholder value in the company.
Recon Africa Background
Reconnaissance Energy Africa is a Canada-based oil exploration company exploring for oil in Namibia in the Kavango Basin. In mid-April 2021, Recon Africa announced preliminary findings from their first well. Those results came earlier and were more positive than expected (they demonstrated that the Kavango Basin was an active petroleum system). Those initial results caused the stock to increase by multiples. (Please see this press release from that time: https://reconafrica.com/wp-content/uploads/ReconAfrica-Press-Release-041521.pdf.
Anson Funds was rumored at the time to have a large short position in ReconAfrica. The positive news took them off guard, threatening the short position immensely. Since then, the hedge fund has resorted to all manner of illicit activities to attempt to crash this stock. Our analysts can see almost daily trading activity between Anson Funds accounts, including accounts that we believe are managed by Anson off the books. Numerous brokers have been complicit in this activity, allowing Anson Funds to continue to sell naked beyond the allowed periods, and it appears that Anson Funds has still not been pressured to cover this short.
Anson Funds Operating a Large Media Syndicate
Back-tracing social media accounts and following ties to specific journalists and publications over the past year-and-a-half, we have determined that Anson Funds has by now gathered together an organized syndicate of stock bashers on various social media platforms—all coordinating comments. In addition to this social media syndicate, it appears that Anson Funds has paid certain journalists/publications for content and is illicitly financing hit pieces from dubious "research" outfits, though most evidence is that the "research" in question originates with Anson Funds and is merely passed on to a third party for "distanced" distribution. Again, however, all elements of this syndicate appear to be working in collaboration.
May 5th 2021
On May 5th, 2021, ReconAfrica announced a bought-deal financing deal. Affiliates of Anson Funds and MMCap attempted to take down huge amounts of shares. Anson Funds did not obtain a direct fill; however, its affiliates did, with MMCap managing to directly take down a large portion of the placement.
To outside observers, this may have appeared to be Anson Funds and MMCap demonstrating a bullish interest in ReconAfrica. However, their aims were actually nefarious. The intention was to use these shares as leverage with various banks, including RBC, TD, CIBC and National. Each of these banks were promised that shares would be deposited with them in order to increase the amount of borrow those banks would allow on already large naked positions. The unconfirmed rumor circulating around Bay Street at the time was that they believed they could borrow an additional 6 million shares in order to force the share price down to much lower levels and then do their covering.
At this point, Anson and affiliates saw that they had the stock side of this manipulation covered. What they needed next was a negative catalyst—something that would shock the market enough and cause panic among shareholders.
May 21st, 2021
The catalyst came on Friday, May 21st, with a libelous piece published by Laurel Neme in National Geographic.
https://www.nationalgeographic.com/animals/article/oil-exploration-company-in-okavango-wilderness-misled-investors-sec-complaint-says
The premise of the article was later rendered without merit by the Namibian federal government, local authorities and community leaders, as well as by confirmed facts from ReconAfrica. The entire article was premised on a complaint letter sent to the SEC.
First of all, anyone is entitled to send a complaint letter to the SEC. There is no requirement for evidence in a complaint letter. It is simply filed with the SEC's whistleblower line and is not likely to be investigated. The SEC receives about 20,000 complaints a year, but ends up investigating no more than 2,000—less than half of which turn out to be anything requiring an enforcement action. There is no format for filing such a complaint and no onus of proof on the filer. However, if the intent is—as it was in this case—to get something on file so that a major publication would be able to "cite" it as a "formal document", then it is a very convenient and nefarious way to circumvent the rules of the game in today's journalism.
In this particular case, a source inside of Anson Funds has attested that the whistleblower complaint was actually filed by Anson Funds or one of their syndicate members and had signatures from multiple other hedge funds associated with Anson Funds – all involved in the attack on the company. The plan was to then alert National Geographic to the complaint's existence and convince a journalist to write it up as fact, citing "an SEC complaint", which to many in the wider public sounds official, despite the contents of a complaint bearing no factual or legal standing.
Further, the source attested that Anson Funds had sent multiple complaints to the SEC about Recon Africa. Specifically, Anson Funds applied for the ReconAfrica private placement and then, just several weeks later, submitted complaints to the SEC, rendering itself the unidentified source in an article whose intentions were to bring ReconAfrica share price down.
The National Geographic piece, on its own, was not enough to ensure that the share price would be negatively affected in a significant manner.
At the same time, Anson Funds is believed to have engaged Rosen Law Firm, a firm well-known as a financial "ambulance chaser" with a relationship with Anson Funds believed to go back years. Anson Funds had Rosen Law Firm issue an ambiguous press release leaving readers wondering who was being sued. The press release encouraged ReconAfrica investors to "inquire about a class action investigation" and even suggests potentially suing National Geographic for misleading allegations—allegations that were instigated by Anson Funds.
https://www.reddit.com/r/ReconAfrica/comments/ni9dj0/rosen_law_firm_encourages_reconnaissance_energy/?utm_source=share&utm_medium=ios_app&utm_name=iossmf
This is part of Anson Funds' strategy to sow fear and confusion among investors. Once the fear sets in, Anson Funds continues to lean on the stock to make it appear to others that retail investors are panicking and selling off ReconAfrica, creating a further panic and sell-off. In other words, Anson Funds is creating its own catalyst to give Rosen Law Firm real ammunition to use in a class action lawsuit.
June 20th, 2021
On June 20th, the Globe & Mail (a Canadian daily) published an article citing unidentified "environmental activists", basing false claims (all have been debunked by the Namibian federal government and local authorities) solely on allegations from unnamed sources.
While the Globe & Mail at large is not likely to have any real relationship with Anson Funds, certain of its journalists and editors appear to, on the side, publishing hit pieces on many companies in which Anson Funds has a large short position, or with which it has had issues of one variety or another. Canadian investors should be closely examining how a major national daily can have such a close relationship with a hedge fund. Media have attempted to examine it in the recent past. This online report has been removed from Reddit in that attempt:
https://marketfrauds.to/corruption-at-globe-and-mail-mail-sent-to-their-staff-and-regulators/
This is an interesting read that highlights the unusually close relationship between various Globe journalists and Anson Funds. There also appears to be a connection between Anson Funds large short positions and negative coverage in The Globe.
And this Reddit thread seeks to address the issue:
https://www.reddit.com/r/BurnedByAnsonFunds/comments/m8feao/is_there_a_correlation_between_negative_articles/
This thread looks at specific company examples where Anson is known to have large short positions and Globe & Mail has initiated negative coverage which has been used as a springboard for further negative pieces.
June 24th, 2021
On June 24th: Viceroy Research published a hit piece on Recon Africa referring to the same unidentified sources:
https://viceroyresearch.org/category/reconnaissance-energy-africa-tsxvreco/
Several hours later on the same day: The Globe & Mail again published an article containing erroneous allegations of a geological nature that were not backed up by expert sourcing:  https://www.theglobeandmail.com/business/article-reconafrica-defends-itself-after-short-seller-says-canadian-oil/
There is obvious co-ordination here with intent to damage the company and their share price.
ReconAfrica responded to these allegations here:
https://finance.yahoo.com/news/reconafrica-responds-globe-mails-recent-132800128.html
Recon Africa noted that "clandestine environmental activists – who refused to be identified for the story – are seeking to disrupt the Company's promising operations in Namibia by any means necessary". ReconAfrica also noted: "Such disruptive activities are an attempt to negatively impact ReconAfrica's share price to the benefit of short sellers. As published by shortdata.ca, ReconAfrica has the largest declared short position of all TSXV companies."
Fraser Perring of Viceroy Research is where a short seller might go when something like the Globe & Mail is not bringing a stock down enough. This short-selling outfit is known for launching campaigns of abuse intended to discredit all involved. In this case, Viceroy was engaged to discredit ReconAfrica, its officers, and the Namibian government. The unconfirmed rumor is that Fraser Perring was paid from $1 million to $3 million for his work by Anson Funds.
The most prominent tool in its arsenal is Twitter, with the following feeds provided below to demonstrate the level of "hired" abuse:
https://twitter.com/AIMhonesty
https://twitter.com/viceroyresearch
https://twitter.com/Gabe_Bernarde
That abuse continued for months and only recently died down, with Anson Funds succeeding in pushing the stock down to its current level.
Viceroy Research has already been fined by the South African regulators: https://news.bloomberglaw.com/securities-law/short-seller-viceroy-fined-by-south-africa-over-capitec-note-1
The short-selling outfit also has a criminal complaint filed against it: https://swiftheadline.com/criminal-complaint-filed-against-viceroys-fraser-perring/
Additionally, an online expose about Fraser Perring has been making its rounds over the past couple of years: https://ffj-online.org/2019/11/04/fraser-perring-chronicles-of-deceit-part-one/
Perring himself is a former social care worker who was dismissed for falsifying records:
https://careappointments.com/care-news/england/93345/social-worker-struck-off-for-falsifying-records/
https://ffj-online.org/2019/11/04/fraser-perring-a-short-foray-into-public-service/
When the Viceroy report was unleashed, it mattered little that the information in the report was not credible. It was intended to create panic and buy Anson Funds time to push the stock down. Most of the selling on the day the report was released was between Anson Funds and their syndicate members.
The tactic on this big day of selling was to mix big lots with small lots to give the impression that retail investors were panicking and selling. And that worked: It did generate real panic among retail investors who started to think maybe there was some element of truth in the hit pieces.
When Anson Funds saw that its strategy was working, it put even more pressure on the stock to drag it down further, causing even greater panic among retail investors, who then started selling harder.
After a short lull, during which ReconAfrica has remained silent, we anticipate a flurry of new hit pieces to come out before the end of June 2022, when ReconAfrica is expected to be drilling exploration wells and announcing preliminary results. The intent now will be to exhaust management and shareholders.
Bringing in more volume will not stop Anson Funds, or any other short seller, which means that Anson is free to continue creating fake catalysts to manipulate the stock.
To better understand the coordinated nature of this short-and-distort attack, regulators should look at the trading patterns specifically on June 24th, 2021.
More recent example of stock manipulation: This manipulation is ongoing. January 13th, 2022, was a day of huge manipulation by Anson and the shorts. It looks like they borrowed (covered) a good percentage of the stock they used; however, this was merely to defend their naked short position. Please take a look at the trading on Thursday, January 13th, 2022, for an example of Anson's manipulation, which is taking place despite an ongoing DOJ investigation. They believe themselves to be above the law.
Summer 2021:
When ReconAfrica announced plans to up-list to a major U.S. exchange, thwarting this became Anson Funds' ultimate goal. To do that, Anson Funds enlisted the help of various law firms to post (sometimes up to 10 times a day) advertisements about class action lawsuits against ReconAfrica. This served two purposes: First, it bogged down the company's news feed to crowd out everything else, and second, it scared off new investors. The up-listing has not happened, as a result. If you look at the news feeds you will see the strategy of completely clogging up and dominating the company's news feed:
https://finance.yahoo.com/news/final-deadline-bronstein-gewirtz-grossman-160000938.html
https://finance.yahoo.com/news/deadline-today-levi-korsinsky-llp-120000597.html
https://finance.yahoo.com/news/bronstein-gewirtz-grossman-llc-reminds-160000475.html
https://finance.yahoo.com/news/shareholder-alert-levi-korsinsky-llp-214000501.html
https://finance.yahoo.com/news/recaf-final-deadline-rosen-leading-190000728.html
https://finance.yahoo.com/news/bronstein-gewirtz-grossman-llc-reminds-173700739.html
https://finance.yahoo.com/news/shareholder-alert-pomerantz-law-firm-025600809.html

In all the years we have been monitoring stock fraud we have never seen such a co-ordinated level of abuse before. How this is legal and hasn't been investigated by regulators reflects very poorly on the current checks we have on short sellers.

Ongoing: Social Media Campaigns 
Back-tracing social media threads alerted us to a pattern, which includes attempts to completely hijack social media messages boards such as Yahoo Finance, Stocktwits, Stockhouse, Reddit, Twitter, Ceo.ca and others.
The modus operandi includes publishing fake news on social media accounts, even of the most outrageous nature.
Here is an example of the lengths Anson Funds will stoop to:
"$RECAF CFO was arrested today… news just broke 2 minutes ago… seems like insiders knew about the pending arrest, and now we're getting an answer as to why the stock price has been falling…"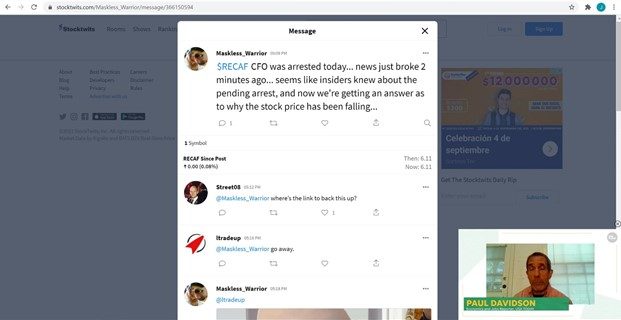 Jeff (@Maskless_Warrior) | Stocktwits (this post has also been archived)
We have also seen a large number of articles crop up on Reddit and Seeking Alpha that are absolutely damning about the company; yet, they have no credible evidence. They then disappear a few days later.
Here is one such example: https://seekingalpha.com/article/4470184-reconnaissance-energy-africa-approach-with-caution (The DOJ should have no trouble obtaining a copy).
Someone Inside Anson Funds had been informing the market of their short and distort strategy:
The following links were posted by someone claiming to be an employee of Anson Funds who was disgusted with the fund and their illegal tactics. They "predicted" what would happen and the plan Anson was following.
The timing of all of these posts suggest this person was indeed an insider:
Looks in detail at How Anson got offside with their short and worked alongside another hedge fund to attack the stock through illegal trading methods using algorithms, spoofing, etc… The piece also looks at how Anson were abusing the whistleblower system.
Thursday May 27 – Is There A Huge Undisclosed Short In Oil Explorer Reconnaissance Energy Africa?
https://www.reddit.com/r/ReconAfrica/comments/nmg1un/is_there_a_huge_undisclosed_short_in_oil_explorer/

Link to an article that looks at the trading patterns and huge naked short that had built up in Recon Africa stock. The evidence here is damning and hard to dispute.
Saturday May 29 – Anson Funds short and distort campaign against Recon Africa (and Globe & Mail corruption) https://web.archive.org/web/20210530005858/https://www.reddit.com/r/BurnedByAnsonFunds/comments/no09er/anson_funds_short_and_distort_campaign_against/

Very detailed look at Anson Funds strategy and what they plan to do next. And highlighted the corruption within Globe & Mail.
Friday June 11 – Corrupt Globe & Mail writer Niall Mcgee about to do a hit piece on Recon Africa https://web.archive.org/web/20210611180404/https://www.reddit.com/r/BurnedByAnsonFunds/comments/nxm8tw/corrupt_globe_mail_writer_niall_mcgee_about_to_do/

A look at Niall McGee and how he has helped Anson Funds in the past with another company they needed attacked.
Friday June 11 – Anson Funds disgusting plans for Recon Africa revealed – and they are dirty https://web.archive.org/web/20210611191009/https://www.reddit.com/r/BurnedByAnsonFunds/comments/nxnprb/anson_funds_disgusting_plans_for_recon_africa/

A detailed look at the Anson Funds playbook for Recon Africa – step by step walk through of their campaign of terror up to that date.
Monday June 14 – Exposing corruption: a letter to Globe & Mail and regulators
https://web.archive.org/web/20210614145146/https://www.reddit.com/r/BurnedByAnsonFunds/comments/nzoje0/exposing_corruption_a_letter_to_globe_mail_and/

Letter that was sent to the Globe & Mail listing the extent of the relationship a number of their writers have with Anson Funds. Globe did not respond.
Links to the Globe & Mail articles:

https://www.theglobeandmail.com/business/article-as-calgarys-reconafrica-drills-for-namibian-oil-a-global-outcry-over/
https://www.theglobeandmail.com/business/article-an-exceptional-play-inside-reconafricas-stock-promotion-campaign/
https://www.theglobeandmail.com/business/article-reconafrica-defends-itself-after-short-seller-says-canadian-oil/
All published to create maximum damage that can then be used by the short sellers, Viceroy Research, Rosen Law firm, social media bashers, and with Globes name behind it – there is some credibility added. It is surprising that the Globe has allowed this obvious stock manipulation to continue.
One only has to look at the timing to see that the Globe was used as part of a coordinated attack.
Recon Africa tried to defend themselves with this release but the damage had been done: https://finance.yahoo.com/news/reconafrica-responds-globe-mails-recent-132800128.html
These pieces then got picked up by other publications who wrote about the story, building negative momentum, which was the plan. For example:https://www.nationalobserver.com/2021/07/14/opinion/canadian-firm-recon-oil-namibia-paris-climate-commitments
Brokers & Banks Are Complicit
Lower-level sources inside certain banks, along with sources outside banks but operating in these same circles, have indicated to us that the Canadian banks mentioned above have been mis-marking tickets.
That illicit practice is rife in Canada, and has recently come under attack by the SEC, which fined Cormark Securities for doing this very thing: https://www.sec.gov/litigation/admin/2020/34-90740.pdf
For regulators, it is a challenge in this case because Anson Funds is believed to be using hundreds of different retail accounts to make their trades over the past 10 months. However, they always make them with the same banks and brokerages. The varied retail accounts give the banks some "deniability".
This has been a systematic and relentless campaign of destruction against a company that had done nothing wrong and whose only crime was releasing results before Anson Funds expected them to. It should also be noted that whenever these hit pieces in the various publications came out there were huge media buying campaigns across all social media channels – trying to get people to visit the links to these hit pieces.
Social media examples:
Examples below illustrate how Anson Funds social media bashers target specific stocks. In one instance, Canadian green ride-hailing company Facedrive—a key target of Anson Funds—has experienced an endless barrage of hit pieces and social media bashers continually hitting the stock and management.
But either through arrogance or mistake their paid bashers have been commenting on both Facedrive and Recon Africa. See below: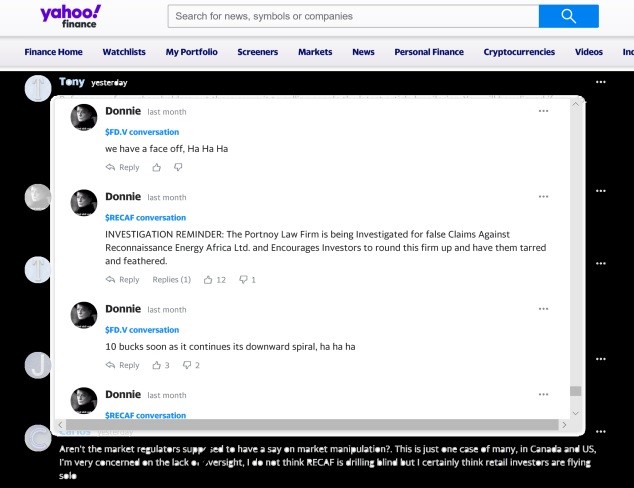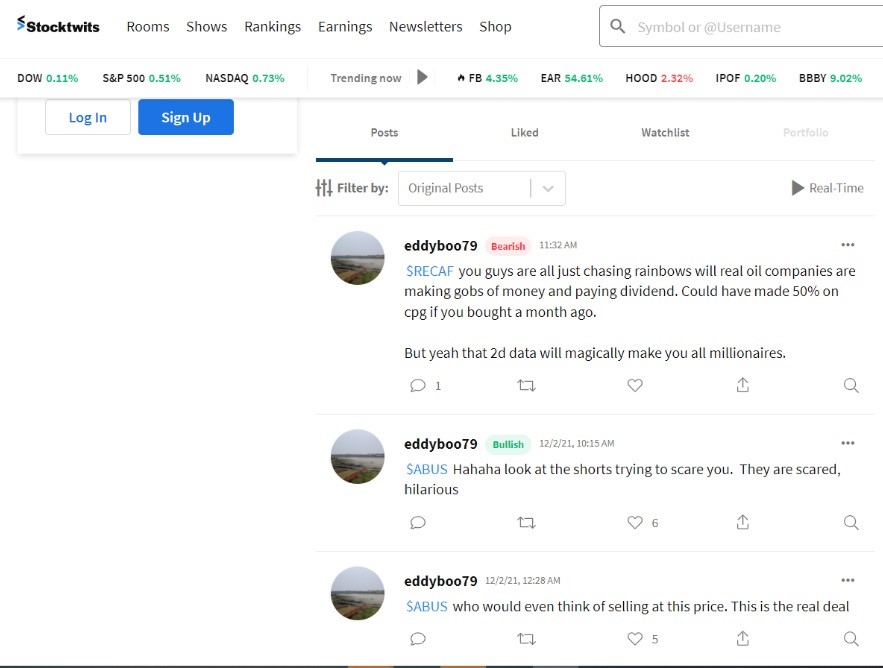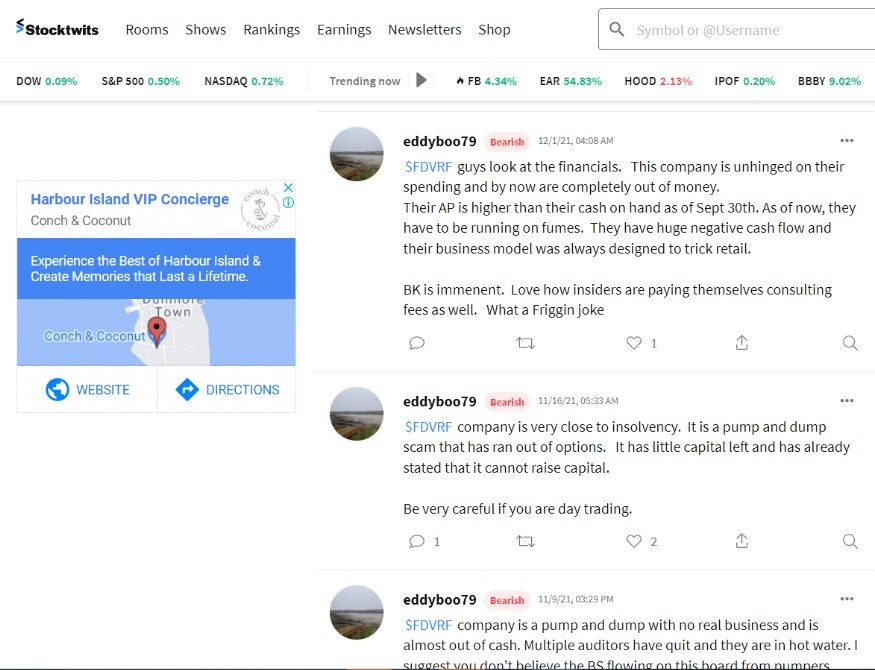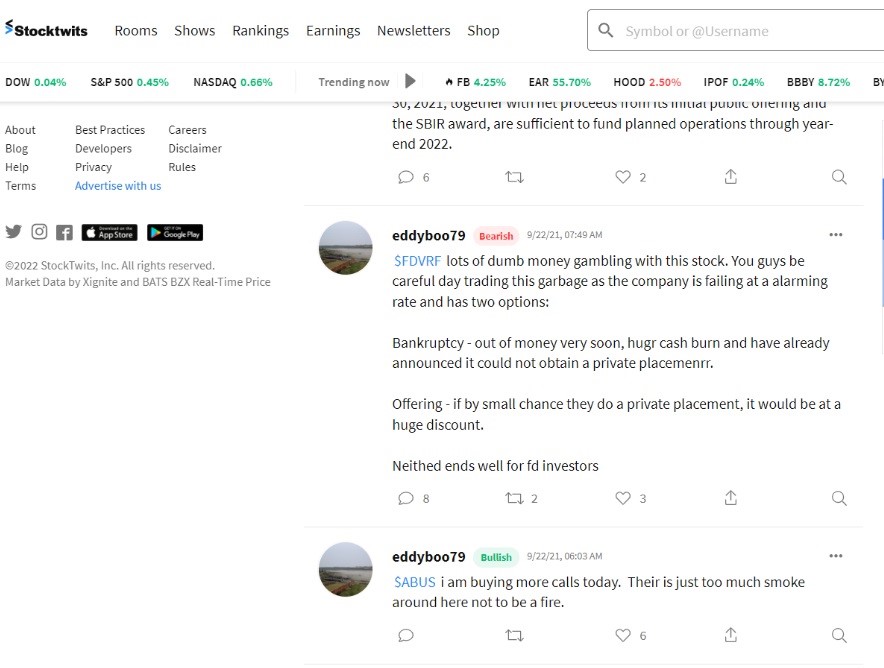 Spoofing in RECO
Spoofing is a daily occurrence with the stock and below is just one example of how they try to manipulate the quote before the market opens.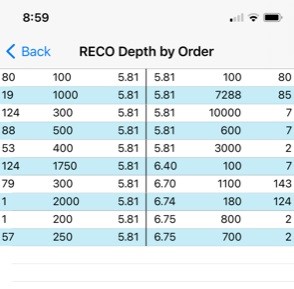 As you can see Anson Funds are trying to force the stock lower at the open. This spooks investors and quite often works, giving the impression that there is a problem and killing all buying momentum for the day. This manipulation happens every day and on light trading days they can force the stock down at the very open.
The Anson Funds Playbook
Anson Fund's modus operandi is clear and concise. It has been repeated dozens of times over a decade and the art of destroying companies through this strategy has now been mastered. The operational scheme follows this pattern:
Fund shorts (some covered, but mostly naked)
Short and distort on message boards starts
Major hit piece: Hindenburg, Citron, Sprucepoint, Viceroy, etc…
Illegal trading strategies to walk the stock down
Class action law firms go into action to clog up news feeds and scare new investors away.
Spoofing and creating trading frenzy so investors are afraid to buy the stock.
Hijack web pages and buy ads to severely harm the business and stock quote
Send hundreds of letters to regulators through their network. Attempt to have an investigation started or a rumor that regulators are looking.
More fearmongering on message boards
Buy more negative media
Offer a term sheet to company to take their financing and cover their short. Always try and get a warrant added so they can have limited downside if they continue shorting.
Continuation of illegal trading strategies throughout
As we have seen with Recon Africa, this playbook was put into action against Callidus, and the following information from the Catalyst Capital lawsuit filed against Anson years ago now seems familiar. The playbook is almost the same but this time with National Geographic and Globe & Mail: https://financialpost.com/news/fp-street/catalyst-capital-files-450-million-lawsuit-accusing-anson-funds-west-face-of-short-selling-conspiracy
Among the claims in the lawsuit is an allegation that some guarantors who owed money to Callidus "filed false 'whistleblower' complaints against Callidus through the Ontario Securities Commission." Then, once the whistleblower complaints were filed, it alleges "the Conspirators worked together to leak allegations contained in the complaints to the media in order to generate media interest."
It is alleged that the "conspirators" sought to spread rumours within the financial industry that Callidus and Catalyst were the subject of OSC whistleblower complaints and subject to investigations by the OSC and Toronto Police, as part of an effort "to undermine the public confidence in both firms."